Dr. Kyle Bates
Meet Dr. Kyle Bates, an experienced and friendly doctor at Lakeside Vision, a proud provider of eye care products and services in Prudenville.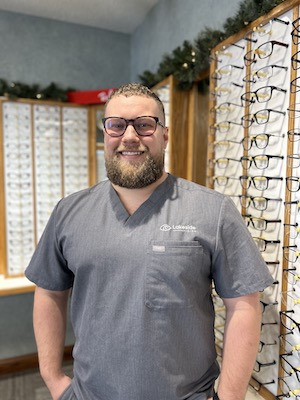 Dr. Kyle Bates was raised in Houghton Lake by his parents, Scott and Denise Bates alongside his brothers Jarod and Trevor Bates. He graduated from Houghton Lake High School in 2012.
After graduating high school, he attended Ferris State University studying visual sciences. In 2015 he began his studies at the Michigan College of Optometry, obtaining his Doctor of Optometry degree in 2019.
He began his career working for Dr. Louis E. Boggs at Lakeside Vision in the summer of 2019. In June of 2022 Dr. Bates purchased the practice from Dr. Boggs. His specialty is Primary Care Optometry. He enjoys caring for patients of all ages and backgrounds.
In his spare time he enjoys hunting, golfing, and playing softball. He loves spending time with his wife Kaylyn and their newborn daughter Lennon. He is also a Rotarian and stays very active in the community.
Dr. Bates is proud to call Houghton Lake his home, and is very happy to be providing care to all of the amazing residents of this community.